It's 7:15AM and I'm, yet again, sitting in the ER with our Bug. We have been here since 5.
When we woke to Judah crying out for help, I assumed it was that he needed help with the feeding bag. I groggily got up and walked into his room. He was moaning and said he needed help with the bag so he could pee  I reached down to help him up and his hand was on fire. Thermometer read 104.4.
I am great under pressure. I'm wonderful at comforting and helping. I laugh and cry easily and embrace 'all the feels'! My 2-ness with a 1 wing makes me great at these middle of the night, sick, moments. When things get stressful and 8-ness takes over I can become a machine. I get things done, making sure everyone knows what they need to know. Inefficiency drives me mad. And usually, the tears are turned off. You get 'business Wendi'.
Tonight I cried to the ER Dr. I do not do that. I was telling her how frustrated I was that we keep showing up here and no one can figure out what is causing Judah's fevers. And I started to cry. In trying to stop myself, I made things worse and started breathing unevenly. And I was morbidly embarrassed. The voices in my head telling me that I should be.
"What a ridiculous way, for a seasoned mom of a kid with cancer, to act. This Dr now no longer takes you seriously because you are falling apart over nothing. Suck it up. There is a time and place for those tears and now is not that time."
Thankfully, Judah slept through my blubbering and the Dr left shortly after.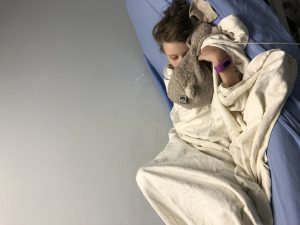 I sat on that uncomfortable chair, watching my boy sleep, thinking about all the things I was beginning to believe about myself. None of it was true I knew that. And yet, I felt as though I was being weighed down by all my inabilities. Matthew texted me:
"The Bible apps verse of the day was no weapon that is fashioned against you shall succeed, and you shall refute every tongue that rises against you in judgment. This is the heritage of the servants of the Lord and their vindication from me, declares the Lord.
‭‭Isaiah‬ ‭54:17. So I'm praying over that."
Jesus is good and His love for us is real and tangible guys. While my soul was being crushed by judgement and I was failing to see my worth or abilities, my husband sent me a bible verse that addressed those very things. Jesus has shown me over and over that He wants to and will show me His love and care for me in little ways. I just have to ask, look, and see.
We are getting admitted. The Drs say there are too many unknowns what with Judah's, chemo, surgery, port, and these unexplained fevers. They don't want to send us home in case they've missed something. We are still waiting for a room but we'll be somewhere on the 2nd floor/North Tower.
Pray with us that the drs/tests will reveal something that is causing these fevers. That Judah will not be broken-hearted over getting admitted again. That he will continue to heal. That spiritual warfare will have no foothold here.
Thanks