Almost 5 years ago, Matthew and I brought Judah to East Tennessee Children's Hospital for an MRI. The drs wre looking for what is called a chiari malformation. But they found a brain tumor.
Today, Judah went to surgery to place a peg line and the endoscope revealed acute erosive esophagitis.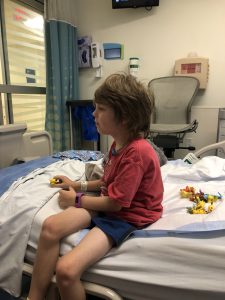 It hasn't escaped me that this discovery is eerily similar to the discovery of his tumor 5 years ago. While Matthew and I desperately searched for a Dr who could to figure out what was causing all of Judah's problems, a puzzle-loving Nurse Practioner decided to look in an uncommon place. And in looking for the uncommon, discovered the answers. The common answer to Judah's weight/nutrition problem was to put in an ng-tube. But we were lucky enough to have an oncologist who had our back and heard our concerns. We wouldn't have discovered his esophagitis if we had agreed to the ng-tube. Uncommon.
I'm not sure why things have never been 'straight forward' with Judah. I am learning to trust the holy spirit, and my momma gut, over the 'common' list drs give us though.
Because in all honesty, Judah has never fallen into the common category! When he was 2 and could see, say, and pick out all his letters in any order he wasn't common. When he was solving puzzle for 5-8 yr olds at 3 he wasn't common. When he was pronoucing 9 syllable dinosaur names at 4 he wasn't common. So when he started having medical issues and none of his symptoms fit in any box, we shouldn't have been surprised. His sleep apnea was central not obstructive. During his brainstem tumor resection his 9 and 12 nerves (tongue movement a and swallowing) were irritated and never recovered, uncommon. Once he started chemo, he had an allergic reaction and though it was working well at stopping the growth, he had to switch to a chemo with a massive pill regimen. At 5, he had no trouble swallowing capsules without water. I know adults who cannot do that. And then he stopped growing. Through all that, he never complained. Was compliant and sweet.
Fast forward almost 5 years to these mysterious headaches and fevers, which still haven't been solved and never respond to medication. Failure to thrive at almost 10 years old. Severe diarrhea with the chemo, which is listed as a possible but uncommon side effect. And now acute erosive esophagitis, which the chemo 'can" cause, but our oncologist has never seen in all her years giving this regimen. And through his pain, Judah continues to say he's good. Not because he's a liar but because he doesn't want to worry anyone. He doesn't want to put anyone out. He sweet and compliant, still. A silent warrior.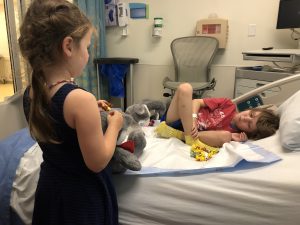 So here is the question that's been floating around in my head all day: if the kid who has been through and is going through all that can be kind, selfless, brave (at least more than most in the same situation) why can't I find a bit of that for others? Why, if Judah can think about how others may respond to his pain BEFORE he will even admit he has any, can't I think about how my words will effect others before I open my mouth? The take away for me is this, I don't know why Judah is so good at 'being' but I do know that I want to be more like him. Quick to hear, slow to speak. Maybe we can all take a cue from him and be a little more uncommon?
For now, the lights are out in this hospital room. I have prayed over my son and hope with all the steadfastness I can muster, that Jesus will continue to go before us and protect us.