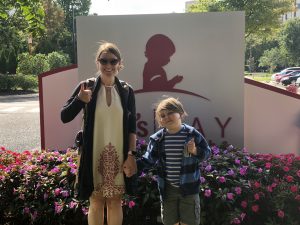 One month ago today, our family got packed up and headed home from St.Jude. We thought we were going home to LIVE. That Judah was only going to improve and that we would be back in a month for an MRI and to start Judah's experimental MEK inhibitor treatment. But we were wrong.
When we came here on July 25th, we thought we'd be here for 3 days and stayed 10 weeks. We were wrong then too.
I am a hopeful person. I am optimistic. In fact, I would say I'm drawn to look for the positive in bad situations. I find myself saying, "well at least…" more often than, "of course…". And I do not like situations where I can't find the 'good' part.
So when Judah started getting minor headaches 3 weeks ago, I chose to look for a less tragic reason than the obvious one: that his tumor was growing again. Were we worried, of course. But we tried not to.
My philosophy is, worrying means you suffer twice. ~Newt Scamander
But after days of minor headaches, he got an terrible one. And it would not go away. We called his Drs at St Jude, who initiated a pain management protocol. We tried all the pain medicines, migraine medicines, fluids, steroids, and nothing touched his pain. After 48hrs, we were told to take him to ETCH for an MRI.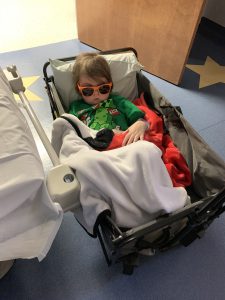 What we learned from that was that Judah's brain swelling was out of control. On the MRI, we saw NO space. The swelling was pushing on his spinal cord, brain stem, cerebellum, and nerves. The only reason he didn't have hydrocephalus was because he has a shunt. High dose steroids were administered and Dilaudid was given, which miraculously took his pain away with no other weird side effects!
Matthew was leaving 2 days later for a very important work trip. St Jude decided that since his pain was under control and the steroids were helping, we didn't need to come right then. But they did want us back as soon as Matthew got home.
We adore his 2 Neuro Oncologists. But more importantly, we trust them. So with frightened hearts, Matthew left for Atlanta and I stayed home, praying nothing happened while he was gone.
And nothing did. And I praised Him for this small mercy. But I also cursed. I screamed and cried. I didn't sleep. I was so very confused and angry. I still am.
Matthew's work trip went better than he could have hoped for and he got home a day early, so we contacted Judah's Drs and headed to Memphis for an undisclosed amount of time. Thankfully, the home we had used before was still open and the family graciously let us move back in.
Our first day back at St Jude, Judah had a St Jude MRI. We waited until the end of the day to find out the results. This time, as soon as the Dr walked in the room he told us the news,  the steroids were working. The swelling was going down. This was encouraging. But Judah had been on steroids for too long already. We needed a new plan. And Judah's team had 1!
Avastin, the chemo drug Judah had been on before we found out his tumor had transformed, is also used to reduce swelling. It does this by shrinking the vessels in the brain. The Drs tell us they want to start it immediately. When Judah heard, he started to cry. He wanted to go home. And amazingly, the Drs said that was just fine. St Jude is a magical place.
The next day Judah got his first dose of Avastin through his port. The only real concern was his blood pressure. Steroids + Vasoconstrictor = high blood pressure. And Judah's didn't disappoint. The next day his blood pressure was 127/91. They redid it. It went up. It was now time to speed taper off the steroids! If his blood pressure continued to stay high, he'd have to go on blood pressure medication. And God knows we don't need anymore medicines in Judah's daily regimen.The Drs said they were ok with us checking it and waiting to see how he did once we got him off the steroids.
At our next appt, I asked about the MEK inhibitor. The Drs said they would have it soon but Judah couldn't start it yet.
WHAT?!?
I started to cry (just a little). I said, but you said it takes 3 months to start working. If we wait until Judah gets off the Avastin (end of December) the MEK won't start working until March. And that's the median range for when kids tumor start growing after radiation. They nodded. They knew my fears. They see if everyday.
For those of you with kids with cancer, you will understand the fierce desire to keep your kid on treatment. As long as they are on treatment, you are 'fighting'. And I did not want to not fight. I told them so. His Drs were so patient. They explained that if Judah has a reaction to the MEK inhibitor, they won't know if it's a drug interaction with the Avastin, or the MEK inhibitor itself. And they will have to take him off of the MEK inhibitor. And we really need the MEK inhibitor.
I slouched. Defeated. The worries I try not to let in, crowded my mind. The 'what ifs'.
While we waited to see how Judah would do tapering off the steroids, we celebrated Halloween at St Jude. Guys, it was more than I could have imagined. Every department dressed up in a theme. And when I say dressed up, these were professional costumes with fully decorated booths. The kids line up and walk (or roll) all over the hospital collecting mountains of candy. And every single one smiled. Magical.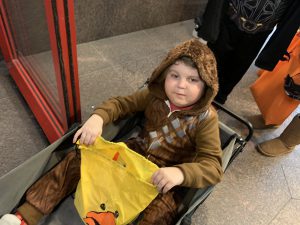 Camilla Kate and Emmett Trick o' Treated with Rere and Jim, Mikey, Mimi and Papaw. They had a blast.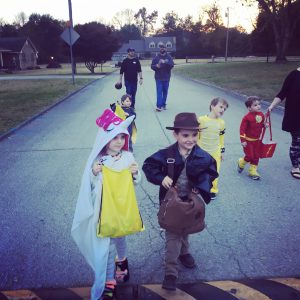 We found out the next day that the Drs were ok with us going home. We could finish the Avastin at home. As long as all goes well.
And thus far, he has done well. He is off the steroids and has had a second dose of Avastin. His third dose is the Monday before Thanksgiving. He'll get it every other week for at least 6 wks. And then, fingers crossed, we can start the MEK inhibitor.
Matthew and I are fighting fear with faith. We are surrounding ourselves with the love and support of our family, friends, and community. We are doing the best we can. Struggling. But making it.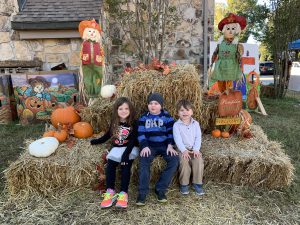 PS: it's very difficult for me to remember to post. I'm sorry.