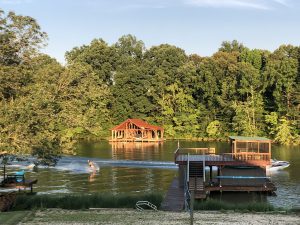 What comes to mind when you think 4th of July? Traditions? Places? People? Fireworks? BBQ? For us, that question is simple. It is the holiday weekend when everything we knew about anything changed. The weekend all the fun plans went out the window. The race we had planned to run as a family. The sibling time staying up late movie-watching. The lake time with Dad. The yard games. The food Mom would prepare for us. The weekend we learned who our people were. Who our God was. It was the weekend we learned that Judah had a brain tumor. 
Tuesday, sitting on the porch at my parents home, looking at the lake, my older sister said, "5 yrs ago today". That's all she said. We all knew what she was referring to. Because for us, the 4th of July holiday is a harsh reminder that we are not in control and cancer is indiscriminate.
Judah got 2 fevers around the 4th weekend. He is getting chemo today. Needless to say, we didn't need a reminder that Judah is battling brain cancer. And yet, Judah was present throughout our 3 days at my folks. He played the Ninentdo Switch with his cousins, teaching them to play his favorite game (Mario + Rabbids Kingdom Battle) and learning to play theirs (Fortnite). He watched Little Einstein's (Pat Pat?) with his Emmett and Stella. He came out for the fireworks, which he has never really done, and loved every second of the booms and lights. 
As I watched on, in awe of this kid who has sensitivity to loud sounds and has an acute memory for negative experiences, and thanked God for him. For the warrior He made Judah from the beginning. For the memory, now burned into my memory,  of my husband guarding and helping Judah assist him with fireworks. For my 4 oldest nephews who have never stopped stepping into the akward spaces with Judah to join him, encourage him, and accept him. For siblings who sit in the muck with us and play cards, cracking jokes, and lifting our collective spirits. For parents who help with it all without a smidge of martyrdom or jealousy.  For the sunshine and water and great books. For our 2 beautiful younger kids who are navigating Judah's cancer better than I ever imagined while unknowingly wrapping up my wounded guilty-mom-heart with their smiles and requests for stories and snuggles. 
I have floundered the last 3 weeks. I have battled shame and disgust. I've been both bound up and emotional. I have been manic about tasks until I am no longer able to function and all the things fall to the wayside. My people love me anyway. But as I spin, my thoughts latch to the idea that I can wrest control from this cancer. And when I have enforced my control on all the moveable pieces in my world, making us all miserable, Judah still wakes in the middle of the night sick. His drs still don't have answers. Matthew and I still have no peace or deep sleep. Because the idea of control is a lie. There is no control. There is only being confident in God's faithfulness. And then moving, carrying all the swirling doubts if necessary, in the direction of the of the One who fights for us and goes before us. Every 'yes' and every step is progress.
The song giving me life this week is Oxygen by Stephany Gretzinger. A bit of it goes:
          Sometimes my very best
           Is only my weakest yes
          You see strength in every
           movement.
           Baby steps and short breaths
           Anything is progress
           You sustain my every moment
~Wendi