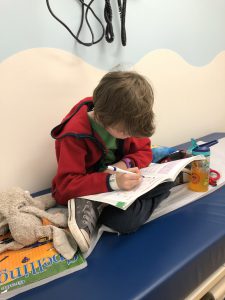 Judah's 2nd chemo is today. Matthew left for another Atlanta meeting at 5AM but thankfully I had some people come together to help me with Camilla Kate and Emmett.
We got to clinic at 9:45 and had check-in and labs quickly. All his labs were noraml except he is still a bit dehydrated. Hopefully the orange Gatorade Daddy got him will help him drink more often.
Chemo didn't arrive until 1. It's now almost 2 so we are about 1/2 way through the first bag. Each bag takes 1.5 hrs. It's gonna be a LONG day. The nurses brought Judah lunch around noon. Me on the other hand, well let's just say I'm really looking forward to the dinner from Two Rivers Church Worship Team tonight.
So far, the chemo is going well. We'll probably be here until 5 though.
Prayers for patience and stamina!
2nd Chemo is finally done! Going home at 4:30 so my guess was very close! Today was a long long day, but Judah was in much better spirits.  He got going quickly on homeschool work and enjoyed the very cool entertainment options at ETCH.  Please join us in continuing to pray that Judah would not struggle with side effects from his treatment and that the chemo would be destroy his cancer!