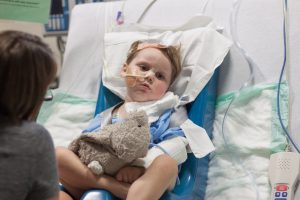 They prepared us for all of this. They told us he may lose his ability to talk or swallow or breath. I (wendi) was like the mom on the play ground who refuses to believe HER CHILD would ever hit another child. And now, here we are, 1 wk post-op and he is doing better but he isn't better. He can't/won't talk. At first Matthew and I convinced ourselves it was his sore throat from the ventilator. Then is was all the sedation. Then his lack of natural sleep…Now, we don't know. He can't/won't swallow. He will cough, clear his throat and then, instead of swallowing, he holds it in his mouth. We have to use the suction and clean it out. But he is breathing like a champ! The apnea seems to have gone away for now and that is a HUGE answer to prayer. So maybe 1 out of 3 ain't too bad.
It seems bad though. I spent the evening here with him last night. I climbed in his bed (against PICU rules) and prayed to my God for healing. My child, who loves language and speech, and the art of pronunciation, will only, for now, communicate in grunts and swats. I prayed that God would give him back to us the way he was before the surgery. After all, He created him. That sweet little voice with big, big words was hand picked by our Savior for Judah. And I just want to hear it.
We spent yesterday afternoon pestering him by mispronouncing dinosaur names. Foolishly, I thought that if I irritated him enough he would just shake out of it and correct me.
They say it will take time. That he is improving slowly. That it may take a lot longer than we originally thought but "let's give him the time". Now they are talking about sending him home on a feeding tube. He isn't showing any swallowing improvement. No talking improvement. What a thing to say in passing. Like it is of no real consequence how he goes home.
Judah is strong and strong-willed. Qualities both Matthew and I have. He will fight. He's been in the PICU for over 2 wks now. His little spirit is so depressed. I refuse to believe that a broken spirit, feeding tubes and no communication, from the joyous, giggly, imaginative boy who LOVES to communicate, are part of God's plan.
I finished my prayer last night begging God to do a glorious work in Judah. And restore his talking and swallowing. Do it fast. Cause, for no better reason than we are drowning, hope is harder to cling to, and this waiting for a significant change is so hard.