Wear Your Love: #TEAMJUDAH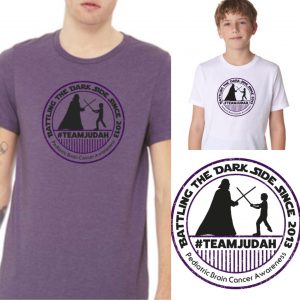 All proceeds from shirt and magnet sales go to support a celebratory trip for Judah's No Mo Chemo Surprize!  Orders can be placed through the email above by May 10th and should be available by May 21st.  Please include name and prefered contact information with your order. Payment options include cash, check, or paypal/venmo!
For sizing charts and a printable flyer click on the link below! ?
Adult shirts: $20, heather purple, soft Bella+Canvas
Youth shirts: $15, white, soft Next Level
Car Magnets: $3 each, 4 inches