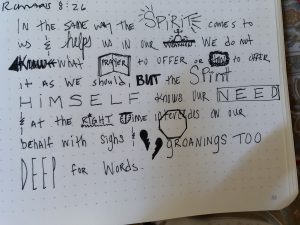 So when I don't have words, or my prayers feel inadequate, I know God knows the groanings of my heart. He knows my deepest longing — for the Miracle Maker to perform a miracle right here and now, in Judah. That His glory be shown through Judah's living. Not in his dying. And also that I know, though it hurts, that God's way are higher than my ways. His thoughts, higher than my thoughts. And it will be His will, not mine, that wins out.
Yesterday was Judah's day 1 of Radiation Therapy (RT) and he was very nervous. So was I, even though I knew nothing would be different when he came out. Right before they injected the anesthesia, Judah looked at me, with tears prickling in his eyes, and said "Momma I'm really scared". I asked if I could pray over him and he nodded. I prayed supernatural peace over him. Unconditional love. Safety only God can provide. And then the put in the medicine and he fell asleep. I went out to the waiting room, put on my sunglasses, and wept. 
The thing is, this whole situation is impossible.  Even the bravest, most incredible kid gets scared and wants to run away. To be held and told everything is going to be ok. And I do my best. But it's not enough. So I went through my list of prayers for Judah.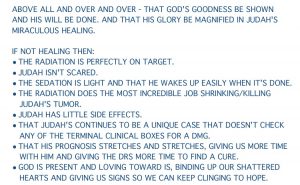 I hate that he has to go through all this. That those who love him do too. That there is no "everything will be ok" because it won't. Unless God works a miracle. 
Judah coughed and cried last night. He was in pain. And I didn't sleep. Mommas don't sleep when their babies hurt. I'm bone tired. But today is day 2 of radiation therapy and my littles are going to their 1st day of school, in Memphis.
So I got myself up. I helped Cricket get dressed and fixed her hair, like I did every day last school year. Made them breakfast, got their bags and drove then over to Aunt E's. We scootered/walked to their school. I wanted them to feel loved and seen. My youngest, his 1st ever class, ran to his room and was, as always, ready for whatever! Big smile. My middle, not so much. She cried. She didn't want "this" school. She misses her home. Her friends. Her school. I did the brave thing and told her it was going to be great. That she would have a blast. That I would see her after school and that I was proud of her. But I knew she wanted Judah. Because her school experiences have been WITH him. Her big brother. Little sister being forced into Big sister role. It's not right. 
I got back to my car and fought tears. Lost. But not for the reason I should have been crying; my baby going to school for the 1st time. But because of what isn't happening. And honestly, I'm struggling to find the fiber of hope I clung to yesterday. It comes and goes, my faith – my hope – my strength. And at times it doesn't feel like the Spirit is interceding for me. It feels like I'm shouting into the void. And I want to turn my back and do it all on my own. But I know I'll fail. My kids deserve better than that. So I turned on a worship playlist and drove back to our Home Away From Home. I forced myself to do a short quiet time but it felt fruitless. I was distracted. Heart sick.
So today, as Judah gets radiation for a terminal brain tumor, all I can do is ask God to grant us mercy. To heal Judah. To bless us. To be present. To show us His glory. And then keep asking.