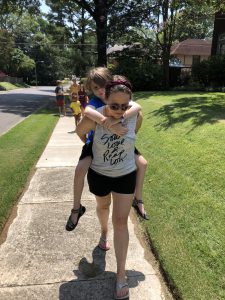 How do you live in the moment, day in and out, knowing the days you have left are numbered? There are so many movies depicting adults traveling to Europe, climbing mountains, visiting family, learning to do that thing they always wanted to do just before they die, surrounded by family and friends. But they're adults. And they've lived a life. And end of life rarely gets tied up in a bow that neatly. 
How do we make sure that every day is full to the brim with joy for our almost 10 yr old and his younger siblings? Of course that's a question we should have been wrestling with since our 1st was born. But life gets in the way, right? The first words turn into "you're too loud". First steps turn into "go outside and play please". First bites of table food turn into "just eat your food so we can be done". And before you know it, their going to college, falling in love, all the things we dream for our children. And the time with them becomes short but sweet. At least that's what we all hope for when life is flying by at a break neck pace.
When Matthew and I first found out about Judah's cancer, we vowed to make every moment count. Then, when he started talking again after his 1st brain surgery, we said we didn't care what he said or how he said it, as long as he did! And then he was 1 yr no growth. 2 yrs no growth. We got comfortable. We settled back into the life of 'we have plenty of time'. We forgot how precious life is and how lucky we were to still have Judah with us. 3 yrs no growth. 4. And then growth. And more growth. And more. And we kept telling ourselves, the chemo will work. The inhibitors will match. The surgeon will de-bulk. He'll be fine. Because he was last time. And we wanted more time. We held onto hope even though the specialists were giving us the facts and they weren't pretty. We asked for specific prayers from 1,000's of believers. We laid on our faces and begged God to save Judah. To give us more time. To show us His glory. 
But the news kept getting worse. 
And God didn't show up. This isn't a rescue story. It's a heart-rending story of love and loss. 
So back to the questions that won't let me sleep. How do we as parents make sure Judah lives every day he has left? How do we give him the chance to do and see all this world has to offer an almost 10 yr old? What would he even want to do with the time he has left? Watch TV. Play the Nintendo Switch. Be with his sister and brother. Cousins. Friends. Grandparents. Aunts and Uncles. Do his life with his family. He's not old enough to know what he'll miss. Not old enough to appreciate the grand canyon or the coliseum in Rome. His favorite things are imaginary. Pokemon, star wars, video games, Mario, bey blades. He's still so little. 
He has no idea what death is. We tried to explain but he doesn't get it. He doesn't remember burying my grandfather or Matthew's. And if he can't get it, how in the world do we explain it to his sister and brother who love him so deeply? They will just miss him and want him to come back. We all will. But they won't have the tact to not say it. 
It may seem like we're worrying about things we don't need to. Like there's time to figure all that out. Like we just need to go hold our kids tightly and take it one step at a time. But that word — time, it's limited now. We don't have that luxury. And we won't squander what we have left. We aren't worried. We're thoughtful and sad and stubbornly prepared to make every day matter.
QUESTION:
If you were almost 10 and could do ANYTHING in the world, what would it be?