No ER!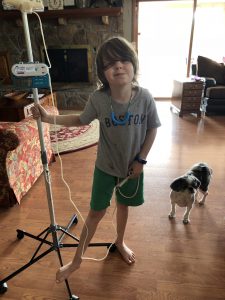 We got to Mom and Dad's around 3:30 yesterday and played and swam (when it was raining ?). The day and evening went as usual. The kids ate while playing video games and stayed up late just goofing off.
Fast forward to midnight when Judah comes into our room complaining of a headache. We got him in our bed, took his temp (normal), and propped him up hoping this was the worst of it.
At 4:30AM, I felt his belly and it was super hot. So we took his temperature – 102.8. We decided to wait 30 mins. If it went up, we'd call the on-call Dr. If it went down, we'd wait it out. 5:00AM rolled around d and his temp was up to 103.4. So I called the on-call Dr. He was so lovely. He didn't know Judah or his history but he listened and was reasonable. I told him that they have always gone down by the time we get to the ER and that we are actually farther than normal for the holiday. Sonhe said, ok his counts are good, yes? I'm going to let you watch him. If it goes up, call me back and he has to go to the ER. If it goes down, you can stay home. I will let Dr Spiller know tomorrow." And by 6:30AM it was normal.
We are tired again. And hoping this is not a foreshadowing of what this week will look like. Because this is how it startedast time we had 3 fevers in 4 days.
Prayers we get to enjoy our time here at Mumzy and Papa's and Judah doesn't get anymore fevers until chemo Thursday.