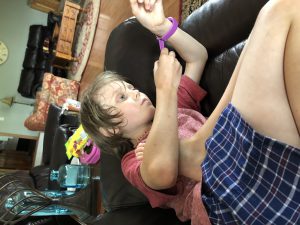 After Judah's last chemo, he never really bounced back. He hasn't been ill the whole time but has been tired and had very little appetite. Then Sunday he became incredibly lethargic. He was white as a sheet with huge blue bags under his eyes. He ate 2 pieces of bacon all day long and drank about the same. He did not move from the couch/floor.
Matthew and I had been out of town and returned today to find him looking the way I described above. It was shocking. So shocking. Today we have spent the day getting fluids in him. He has eaten a bit more but everything runs straight through him. And he feels wretched.
This is so much worse than he was the first time we did chemo. And we have a long, long way to go. We want more than anything for him to be better and know that the chemo is killing the cancer. But it feels like it's killing him too. And that is almost too much for a momma and daddy (and grandparents, aunts/uncles, cousins, friends) to stomach. We are watching him with tears in our eyes. Doing the best and knowing the best is not even close to helping.
We will be taking him to see his Dr tomorrow morning and fully anticipate him being admitted to ETCH. Please pray for him and us. Pray that tonight is uneventful and that we get a solid plan for helping Judah with his diarrhea and nausea so he can start to get a little more energy. Pray that we get a feeding tube put in soon and that it helps. Pray for his spirits. He is so sad and tired. And so are we.
Thank you friends.