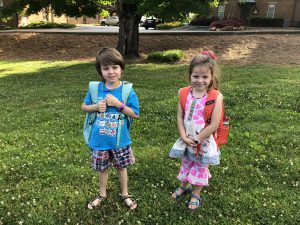 Judah and Camilla Kate (Cricket) had their last day of school today. It was full of fun and parties and sweet hugs and goodbyes. Thankfully, the co-op family is close and we will still see our friends throughout the summer.
While the kids were at school, I busies myself with cleaning and packing and searching for Judah's long lost bey blade he "really needed to show to Gabe!" *Insert exasperated 9yro voice* Packing for Nashville isn't usually very hard, but this time, since he'll be doing chemo there tomorrow, I had to pack for chemo day too. It was hectic and frustrating and I did not find the bey blade though I searched for almost 30 dedicated minutes?
As I loaded the car, I kept running through my mental list of must haven't items knowing I would forget something. And I did. Matthew and my toiletries…of all the things to deal with on chemo day, stinky breath and armpits was not one of them. We weren't far from home when I realized it so we went back!? My mother has always told me to make a list, put it the car when you think of it…I'm a great listener ?
After dropping off Emmett at Mimi's, meeting Mumzy to get her lasagna, we finally got on the road.
God has blessed us with beautiful weather and traffic and we are about to pull into Bam's as I type this. But before I leave you, I want to request a few specific prayers:
1) That Judah's rocks his MRI at 7est and is very still so the picture is crystal clear (he does them awake bc he's a rockstar!)
2) That the MRI shows that the chemo is working and Judah's tumor has stopped growing (or at least shrunk)
3) That tomorrow's chemo (begins at ~10am) goes by quickly and that the nurses are kind.
4) That Judah doesn't get sick during or after chemo.
5) That God continue show us His enormous love and care whether through continuing to provide for our every need (And He has!) or healing Judah completely or both!Matthew and I cannot thank you all enough for showing up and showing out for the Thacker pack. We are in awe at how The Mover of Mountains has battled for us through y'all.