Last night they moved the tube that keeps Judah's tummy empty (so he doesn't throw up) from his mouth to his nose and added a feeding tube to the other nostril. This gave him a little more room in his mouth but I'm sure it's still frustrating having all those hoses going down his throat.
This morning he's very alert, answering yes or no questions, wriggling around, and getting comfortable. He even managed to get into one of his "resting poses".
Since he was little anytime he's sleeping in a semi-upright position he prefers have his legs criss cross apple sauceand his hands behind his head like some old James Dean photo. He kept lifting his arms this morning and they'd kind of swing around in the air never getting very far before we'd try to help him set them softly back down. We were assuming like most kids on ventilators he just wanted to pull at his tubes. When we finally left him alone at it for a minute or so he managed swing it up in to position and get his fingers behind his head, then he was comfortable. He didn't have much luck with the right arm because its all tied up in IVs and such but he was happy with just one
.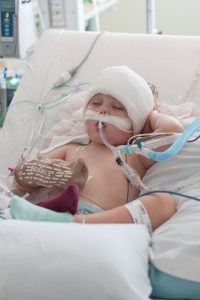 A little later when his nurse was taking care of the usual "tending" a kid on a vent needs I was reminded just what an awesome God we have (and what a great little kid He gave me). Jesus knew before the beginning of time that Judah would go through this and when He built him He gave him the strongest, sweetest, most loving little spirit there ever was. The nurse told Judah she needed to brush his teeth, which he doesn't like very much, and this kind hearted, compliant little boy with tubes coming out of every orifice, head swollen and achy and drugged enough that he can barely open his eyes, opened his mouth for her.
That's my Judah. No matter how much he's hated food or medicine his whole life he still opens his mouth, still complies with the people he knows love him and are doing what's best for him. All his nurses and doctors have said he's the best patient they've ever had and all have been amazed at his sweetness and spirit. God has glorified his name through Judah and continues to do so. He never wanted him to go through this but He knew he would, so Jesus made him special to be able to handle it well.